About
EXPERIENCE MATTERS
GO Wireline was created with the goal of providing the highest quality service possible in the wireline industry, by founders and employees with the experience, training, ethics and the commitment to first-class service needed for the job.
GO Wireline utilizes top of the line equipment with a strict maintenance schedule to limit issues in the field, saving customers time and money.
GO Wireline strives to provide customers with solutions to any issue, even those that require thinking outside of the box and creative problem solving. With industry leading experience in tubing conveyed perforating and pipe recovery, GO Wireline is able to accomplish even the most challenging jobs.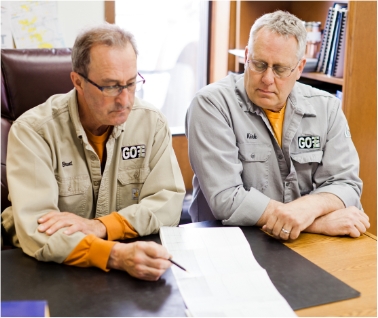 200 YEARS
COMBINED EXPERIENCE
BE PART OF THE

SOLUTION

Today's oil and gas companies require high efficiency, subject matter expertise, and a complete commitment to safety and the environment. At GO Wireline, we recognize our customer's needs and seek to exceed their expectations through our commitments to service quality and safety.
Our management team is committed to be part of the solution. Whether it is complicated fishing jobs or you need a simple question answered, our management team stands ready to serve.
GO Wireline is developing custom technology and management software to evolve ahead of the competition and employ data driven strategies in its operations and safety programs to help our customers achieve their goals with greater efficiency.