Wireline
SERVICES
Logging
Pipe Recovery
Perforating
Setting Plugs and Packers
Circulation Holes
Tubing Conveyed Perforating
Pull Plugs
Mechanical Services
Third Party Hoisting (Cameras, Tractors, Magnets, specialty logging tools etc.)
H2S Services
Dump Bailer
Plug & Abandon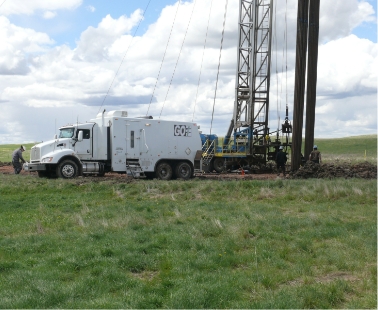 LOGGING
GO Wireline has the experts needed to help check casing integrity or cement bond evaluation. With decades of experience, GO Wireline's wide range of tools will ensure that the best data is captured for a given situation, at a fair price. All data is reviewed in-house by a dedicated log analyst, ensuring timely and accurate answers.
Logging Tools:
Stacked Caliper and Radial Cement Bond Log
2 ¾" RCBL Tools
2 ¾" Analog CBL Tools
1 11/16" CBL Tools
56 Arm Caliper Tools (3.6" OD)
40 Arm Caliper Tools (2 ⅞" OD)
24 Arm Caliper Tools (1 11/16" OD)
PIPE RECOVERY
GO Wireline has deep pipe recovery experience and inventory to help customers get out of sticky situations faster. With decades of experience in free-point and back-off jobs, we understand the nuances of the tools and scenarios from a deep history of work.
With over 50 different types and sizes of cutters in stock, GO Wireline has the right tool to get your pipe free. Whether it's jet cutters, chemical cutters, radial torches, backing off, or just analyzing where the pipe might be free, GO Wireline has the expertise to help.

CIRCULATING HOLES
Circ Holes. Drain Holes. Tubing Punchers. Equalizing Holes. While it goes by many names, the idea is the same. Pipe needs to drain while it is pulled out of the hole.
GO Wireline has perforated thousands of holes in tubing and casing. Whether conveyed by wireline truck or through perforated by the RDS Gun (Rapid Deployment System) dropped inside the pipe, GO Wireline will efficiently get your rig back to work.